Hettinger, ND Centennial, 2007

Hettinger, ND Centennial . . . . . . . . . . . . . . . . . . . . . . . . . . . . . . . . . . . . . . . . . .Page 1 of 5. Go to page 1 2 3 4 5 next

by Paul Martin

7/2/07 I caught the airport shuttle from home at 3:15 AM to start out a very long day. I flew to Salt Lake City and from there to Rapid City. On that second leg, I talked to a woman who works with the school districts at Pine Ridge. We had an interesting visit. After getting my rental car, I had lunch at a Wendy's in Rapid City before heading north. I decided to take the same road north from Mud Butte that I had taken so many times when I was in college. I figured that this would probably be the last time I would ever take that trip. Mud Butte was gone, so I had some trouble finding the road heading north from 212. The road was still gravel with cattle guards every few miles. I had to stop once to let a herd of cattle get off the road.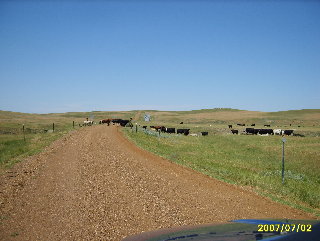 . . .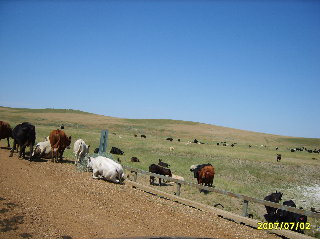 I saw five antelope in four different places, and lots of wide open spaces.

I thought I was north of Zeona when I realized I was lost. Since nobody knew where I was, and I didn't have any water, food, or supplies with me, I got a little concerned.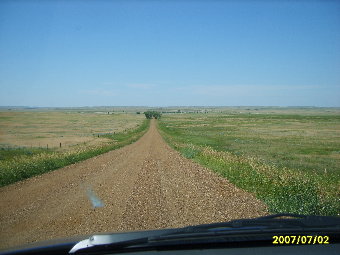 . . .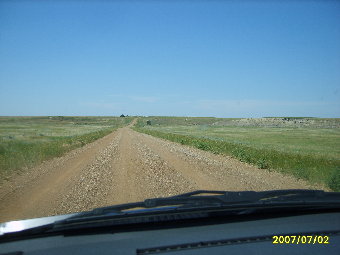 At about that time my phone rang which was a great relief. I didn't realize there would be phone service out there. It was my sister Gayle. She told me to call Scott Thompson when I got to Hettinger to pick up the keys to the lodges where we would be staying. Gayle's daughter Barb and her two girls had one unit and my brother John and I had the other.

I stopped at a farmhouse to ask directions. They told me that I still hadn't reached Zeona yet. I asked if they knew Larry Markegard and they did. In fact, they said that Erik Markegard, Larry and Karin ((Manning)Markegard)Talbot's son, was in Zeona now. I decided that I would stop in and surprise him.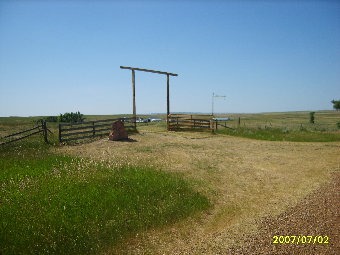 . . .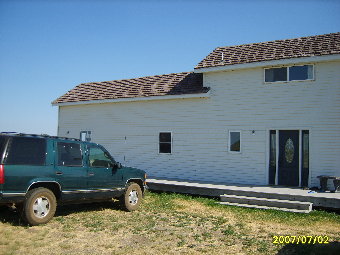 I stopped and did surprise him. Karin and her new husband, Billy Talbot were also there, along with Erik's wife, Doniga, and two kids, Leah and Larry.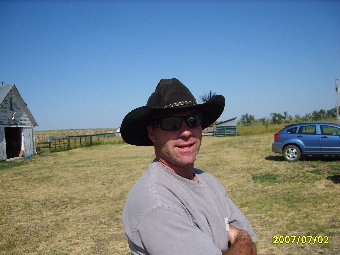 . . .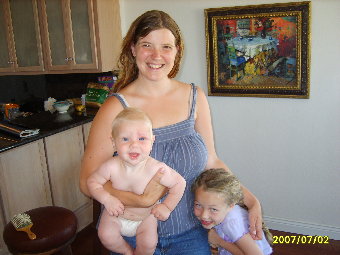 I had a nice visit with them and then continued on to Hettinger.

When I got to Hettinger, I connected up with Scott and got the keys. He showed me the hunting lodge where my brother John and I would be staying. It was pretty good accommodations considering the scarcity of lodging for the reunion. The weather was very hot but our place had a good air conditioner, which we greatly appreciated.

Soon after I got settled, I went grocery shopping with Barb, Hillary, and Samantha at the same store I had shopped all my life as a kid. After we put our groceries away, we all went to Gayle and Lynn Howe's motor home for dinner and pictures.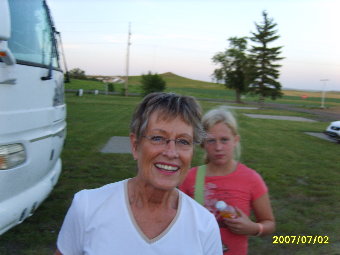 . . .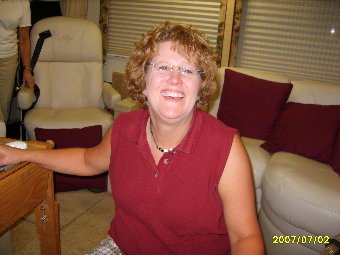 . . .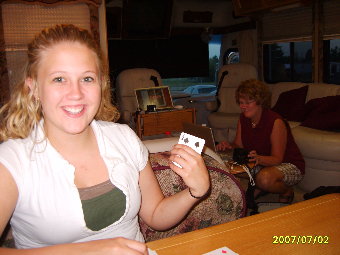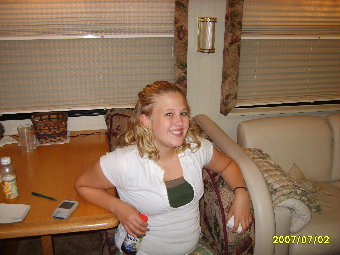 . . .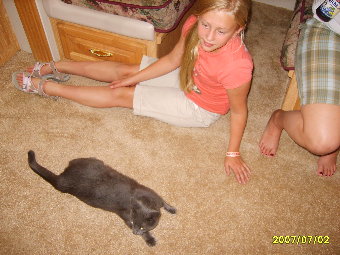 They had their dog, Loo E and their cat, Beau Ty. I called the cat "Botox" and got some pictures of the cat and the dog.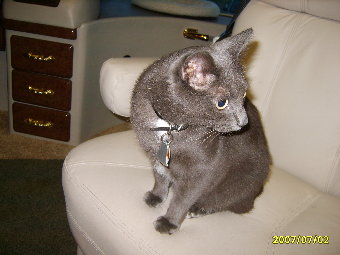 . . .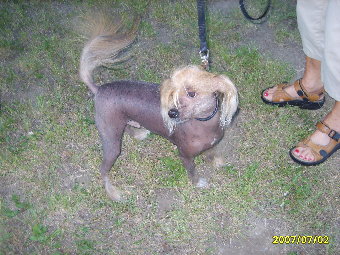 I tried calling John during the day but could never reach him. His cell phone didn't work in that area. He ended up finding the place anyway. He used his friend Harold Samdal's cell phone and called Gayle after midnight. Gayle directed him right to our door. It was great to see him again.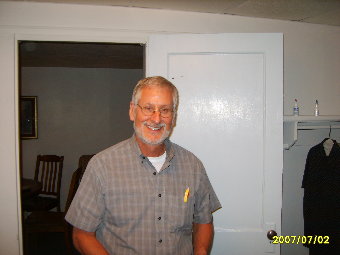 . . .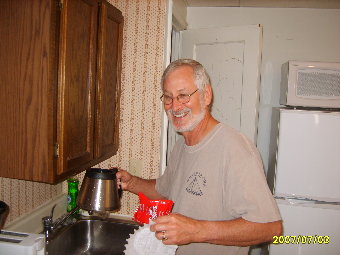 We had a great conversation that went on until the wee hours.

---
Page 1 of 5. Go to page 1 2 3 4 5 next
---
©2007 Paul R. Martin, All rights reserved.