Hettinger, ND Centennial, 2007

Hettinger, ND Centennial . . . . . . . . . . . . . . . . . . . . . . . . . . . . . . . . . . . . . . . . . .Page 4 of 5. Go to page 1 2 3 4 5 next prev

by Paul Martin

7/5/07 John and I joined Harold at breakfast at the Knotty Pine Drive-in with some of Harold's relatives. After breakfast we learned that Bob and Mary Stuart had just arrived in town and Paul and Anita (Ellefson) Wagner were with them just across the street and a parking lot from our lodge. Two of Paul and Anita's daughters were with them too.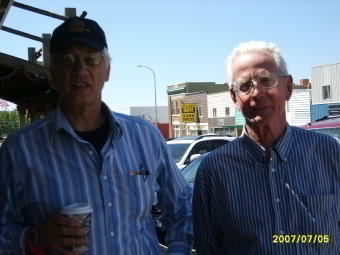 . . .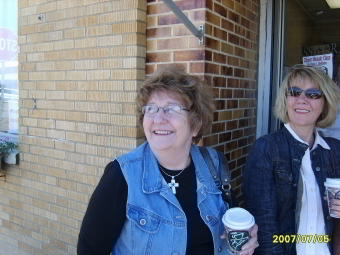 Mae (Wagner) Smith had also arrived and was with them too. I went right over to see them and take a bunch of pictures of them.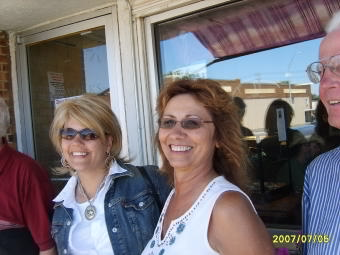 . . .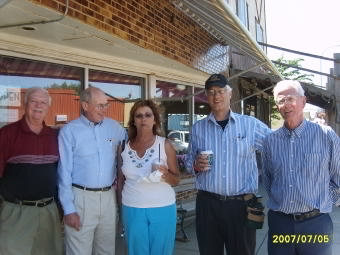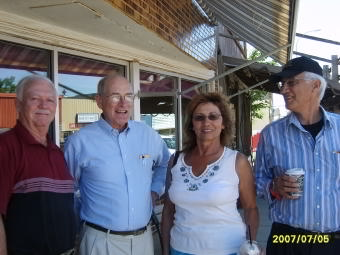 . . .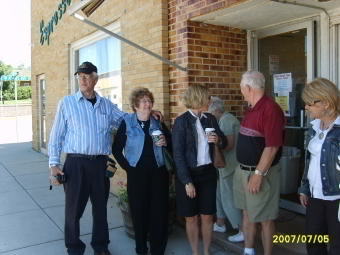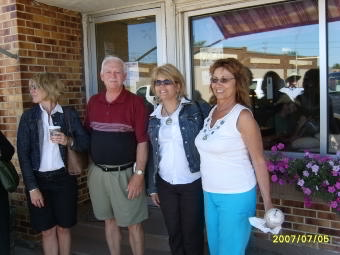 . . .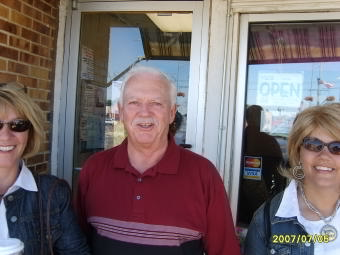 George Cayley, Dolores (Posthuma) Artus, and Gary Melling joined group so I got pictures of them too.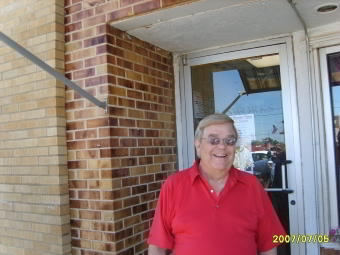 . . .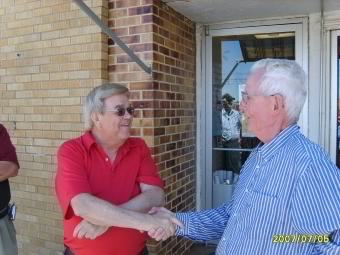 I invited any and all of them to come to our lodge to cool off or use the bathroom or whatever. Some of them were staying out of town or out quite a ways from downtown. Bob, Paul, Dolores, and Mae took me up on the offer and came over to our lodge with John and me. John told the story of him rolling marbles down the aisle during Mr. Stuart's study hall. You can see a video clip of John starting his story with Dolores listening here.Then Bob told the story of him falling over backward in the chair at the study hall. Paul told a story of putting Cordell Kock's shoes up on some water pipes and getting into trouble. You can see and hear Paul telling his story here. It was a fun time.
Afterward Paul, Mae, and I went to the quilt shop and met with Mike Tanous.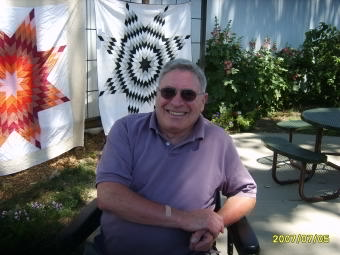 . . .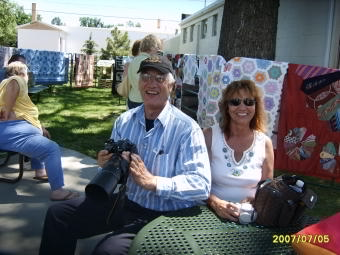 There we ran into Elke Schmidt.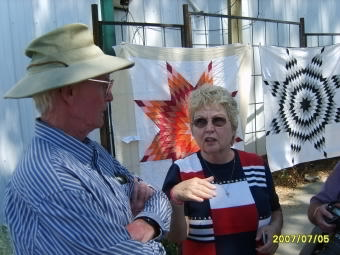 I had lunch at Peppy's with Paul, Mike, Mae, and Skip Walby. Skip helped me with some technical difficulties I was having with my camera. There was no problem with the camera, just with the user. I didn't know how to delete a picture. I was grateful for Skip's help. We saw Rod Rienke there.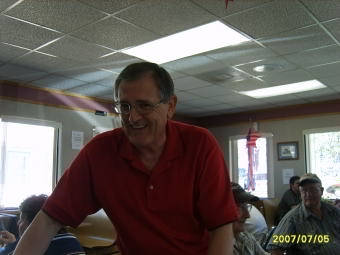 . . .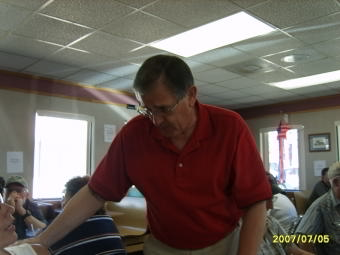 After lunch, I went with Paul to his camper, which was parked up near Gayle and Lynn's camper, and he copied Mae's article to the Adams County Record so that I could hand out copies. I had promised to give the copy I had to June Stevens, but I wanted to have some more for other people. It is a truly excellent article. While I was there, I met quite a few of Paul and Anita's family. His son Mike was there with some grandkids as well. They are a super nice family.

Next, I went down to the school to register for the events there. I met most of the Manning girls, JB Lindquist, Mae and a bunch of other people.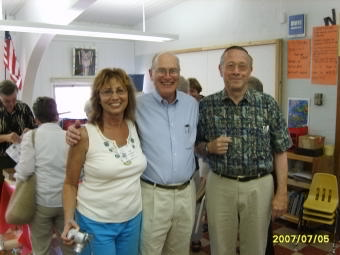 . . .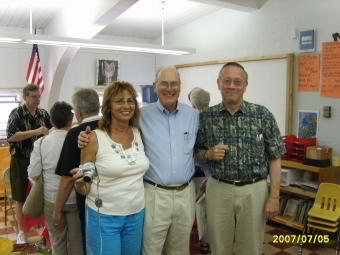 I was supposed to be at a Class of '58 reunion out at Jim Muth's son's place at 1:00 but it was already 2:30 by the time I got there after making the copies and registering. Just as I got to Muth's, they were lining the people up to take a class picture.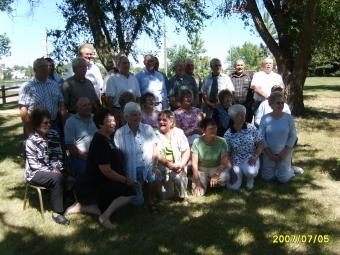 . . .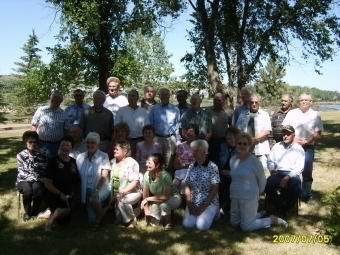 I just barely got into the act. I took a bunch of pictures too.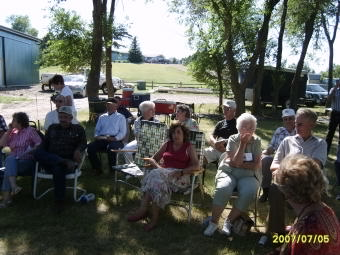 . . .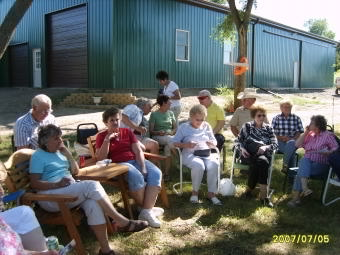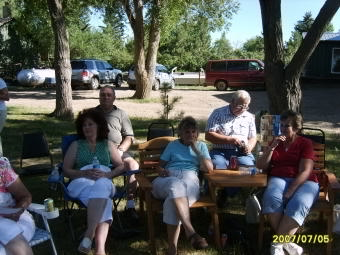 . . .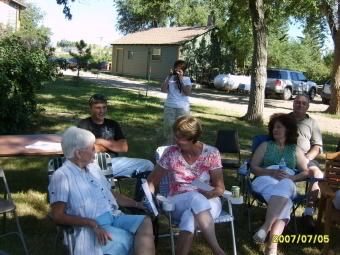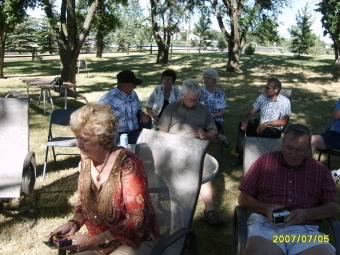 . . .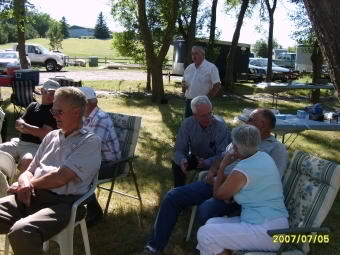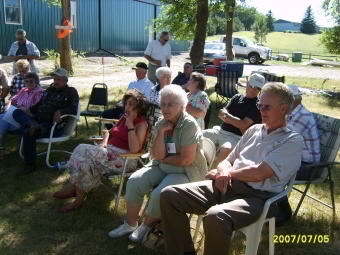 . . .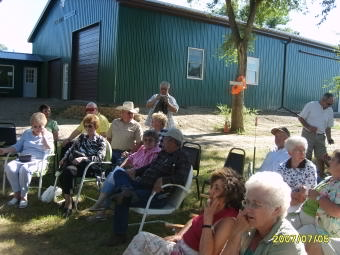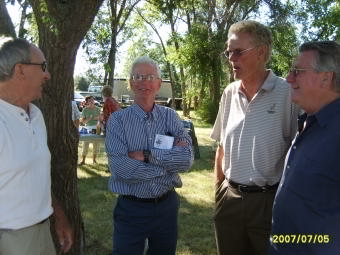 . . .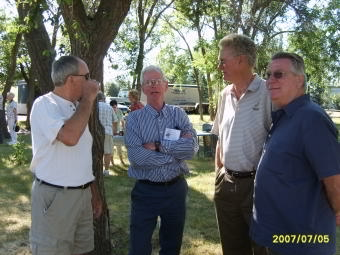 All but three of my classmates who are still alive were there. It was a phenomenal turnout after 49 years. Stories were told and we had a lot of good laughs. I told the story of Virgil Reiners accidentally using toothpaste instead of Brylcreme in his hair one day in third grade. He had to leave school mid-day in order to wash out the goopy mess after it started to dry. I had good conversations with Dale Gruebele, John Butterfield and Bob Stuart in addition to briefer ones with other people. I hadn't put two and two together before and realized that I knew Dale as an upperclassman at School of Mines when I went there. He is married to Naida (Evenson) of our class. He wanted me to watch for the program, "The Proof" on Nova, which is about Fermat's Last Theorem, if I'm not mistaken. Bob stumped me with a math problem which I have been thinking about ever since.

When I left the class reunion, I drove to Gayle and Lynn's to see if they had had dinner. They were gone but Mae was just leaving Paul and Anita's. She was just about to leave for Bowman and hadn't had dinner either. We decided to have dinner at Peppy's together before she left town. We had a great conversation there about old times.

After dinner, I went down to the lake for a band concert, but it was too loud for me and I was tired. I went back to the lodge for the evening.

---
Page 4 of 5. Go to page 1 2 3 4 5 next prev
---
©2007 Paul R. Martin, All rights reserved.