Hettinger, ND Centennial, 2007

Hettinger, ND Centennial . . . . . . . . . . . . . . . . . . . . . . . . . . . . . . . . . . . . . . . . . .Page 5 of 5. Go to page 1 2 3 4 5 prev

by Paul Martin

7/6/07 Just before 6:00, I went over to Barb's lodge and let her copy the picture chip from my camera so that Gayle could get them. I also learned from her how to take the chip out of the camera without using a pliers. She scolded me never to take a pliers to a camera for any reason. I'm gradually making progress with modern technology but it is slow.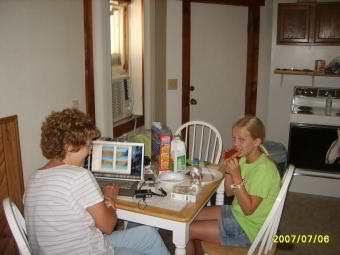 . . .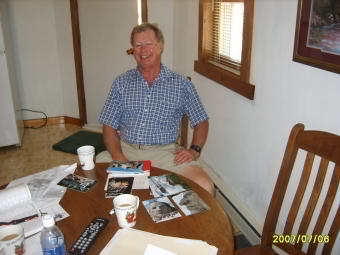 When that was done, Harold showed up and we went to the Knotty Pine Drive-in for breakfast. I was really grateful for the time I spent with Harold. He is an interesting guy. He had some pictures of the Crazy Horse monument which he showed to John and me. (You can see them on the table in the picture above.) Harold is just recently retired as an airline pilot for Alaska Airlines and he has been an active Scoutmaster. We had some interesting conversations on these topics as well as others.
At Breakfast, we saw Arlo and Erkle Howe in a booth with their daughter Kathy and her husband John Schmitz. I got some pictures of them.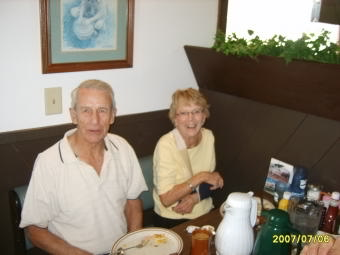 . . .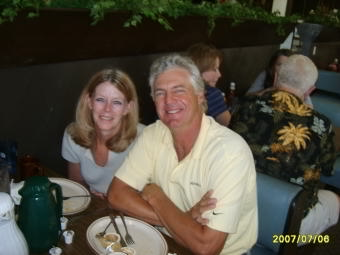 After breakfast John, Harold, and I went to the school to pick up name tags. We didn't make it. Harold wanted to stop by where he was staying to get something. When we left there, I decided to join Paul Wagner in what I thought was a Wagner reunion. It was only a couple doors from where Harold was staying. John and Harold went their separate way and I went over and inadvertently crashed a Class of '57 reunion. I was there quite a while talking with people when it dawned on me that there weren't many Wagners there. When Mike Tanous remarked that I was the only person not from the class of '57 who signed their email list, I knew I had crashed the party. They didn't throw me out, though, and I had a great time talking with people. In particular, Margaret (Posthuma) and her husband Dale Allen, Evelyn Wolf, and Minetta Siewart, Elgean Olson, and Jackie Manning, among others.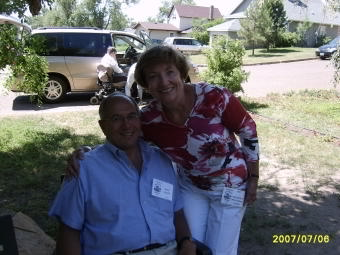 . . .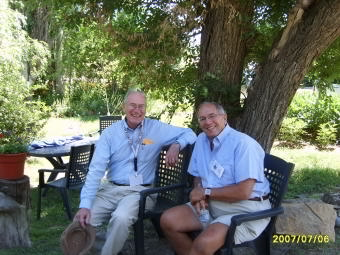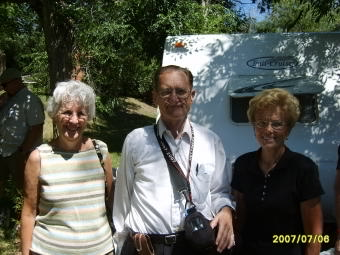 Paul and Anita Wagner offered to fix lunch for Mike Tanous and me, so I went with Paul to his camper. They fixed a great lunch which we had finished eating before Mike showed up.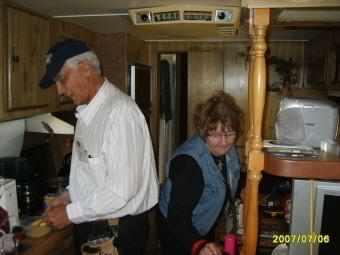 . . .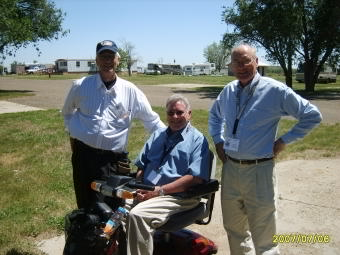 We had saved him some, but it was cold by then. He seemed to enjoy it anyway. After lunch, we took some pictures including the two Mikes, the two Pauls, and Mae. Anita stayed out of camera range at that point.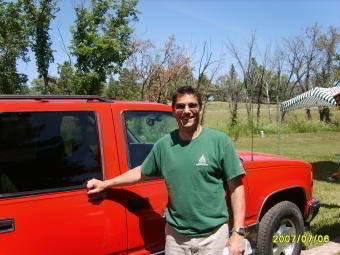 . . .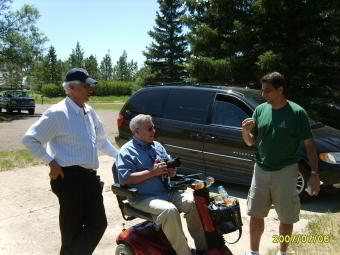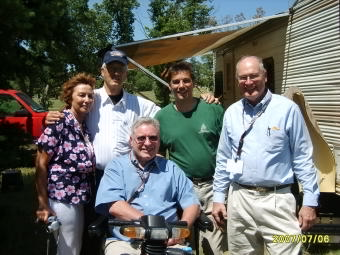 From there we went down to the school to get name tags. There was an event going on the gym at the time with speeches, but it was so hot and there was standing room only. I ran into John and Harold again and we decided to go see the museum instead. We had heard it was worth seeing and we were running out of opportunities. We spent quite a bit of time in the museum and had a wonderful time. It is a really great display.
On our way out, we met Earl and Mary Ellen going in. While we were standing outside, I learned that Harold's brother, Lew, lives in Puyallup. He is in the millwork business. I told him that my son Bill has a door and millwork company in Sumner. Lew asked me the name of the company and I was embarrassed to admit that I didn't know. I pulled out my cellphone and called Bill on the spot. He answered the phone and told me the name of his company. Lew knew the company so I gave him the phone and he talked with Bill for quite some time. I'll have to learn from one or the other of them some day what they talked about. And they say I am a low-tech guy.
From the museum, we (John, Harold, Lew, and I) walked over to Wes Edwards' house and visited with him and Sharon.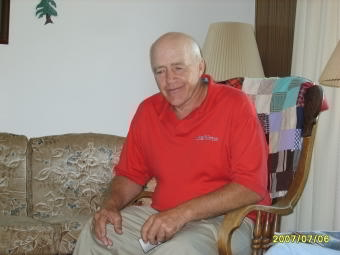 . . .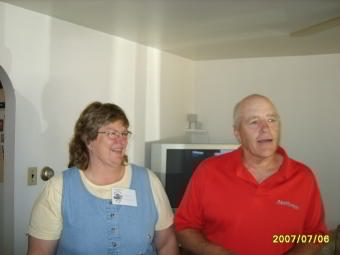 Then we parted ways again and I drove to the airport to attend a reunion of the '50's classes. The other guys went to the '60's reunion at the country club. In the warm hanger which was full of tables, I met Jim Emch and his wife, Lyle Alexander,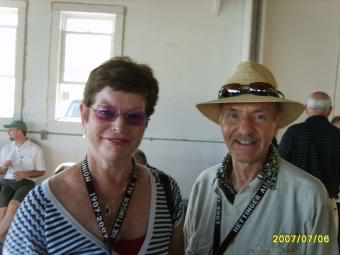 . . .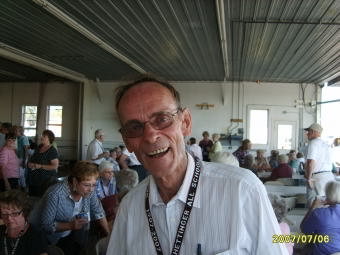 Fred Schauer, Chuck Williams, Violet Olson, my sister Gayle Howe,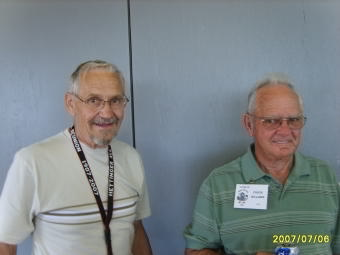 . . .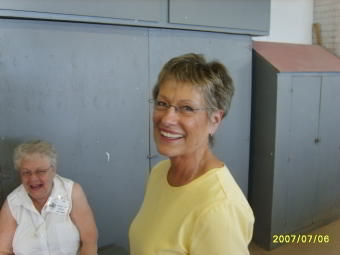 Violet Olson, Bill and Eleanora Evenson, Orlean Tangbakken, Janet Eneberg,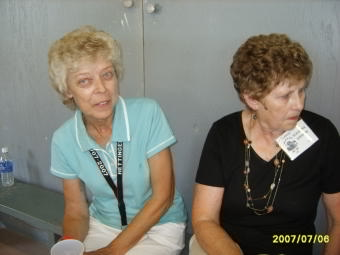 . . .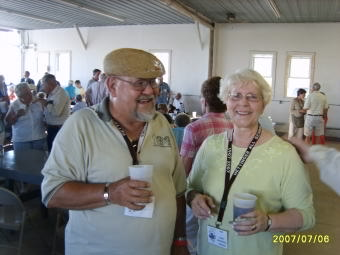 Jeanne (Morgen) Henderson, Bob Stuart, Darrell Henderson,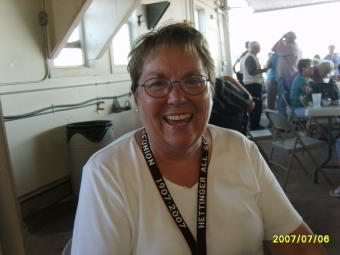 . . .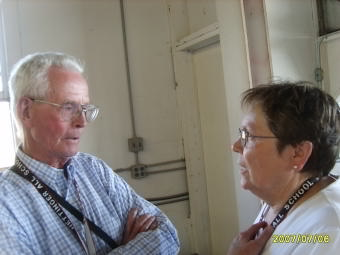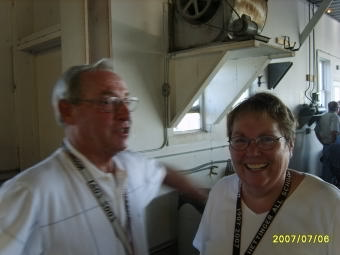 . . .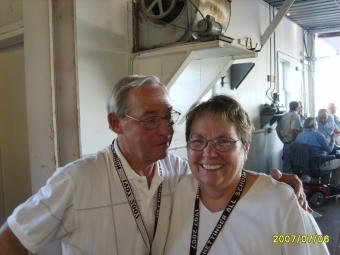 Dave Merwin (in mid syllable), JB Lindquist, Al and Linda Bortke,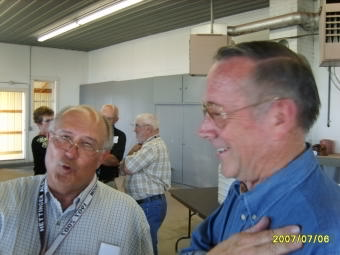 . . .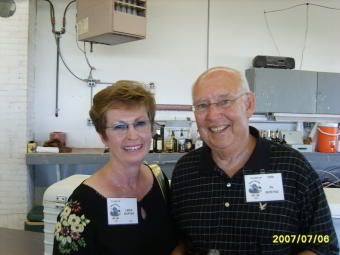 Janet (Falde) Schauer, Bernice Lysne,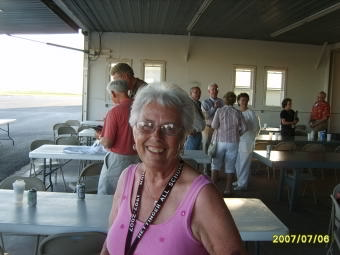 . . .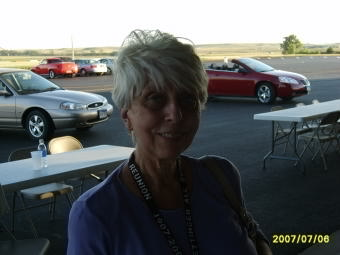 Jim Stippich and his wife and Lyle Alexander again.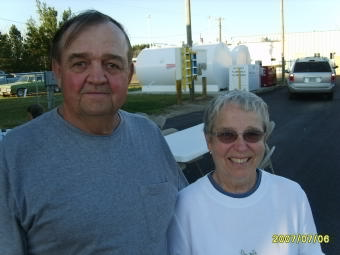 . . .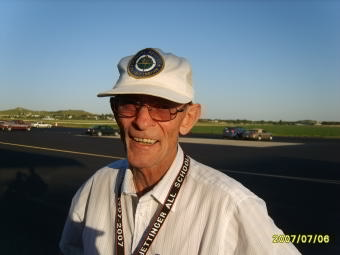 After I left the airport, I gassed up the car and went to our lodge to have something to eat. Then I went down to the lake and joined Gayle and John Murrin at the concert.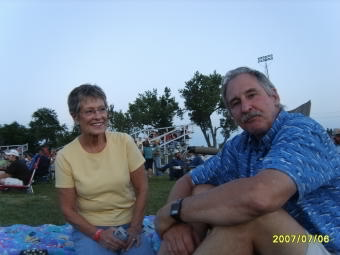 . . .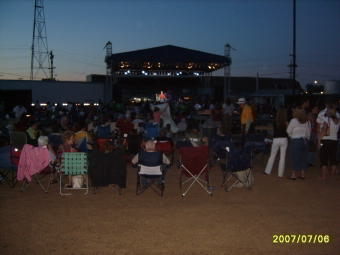 Since John and I would be leaving early in the morning, Gayle came over and took some of our left over groceries and the remainder of a bottle of scotch.

7/7/07 John and I got up at 4:30, had breakfast, and were on the road south to Lodgepole and beyond by 5:05 AM. We saw uncounted antelope, two deer, several road-killed porcupines, a skunk, a couple pheasants, and an unfortunate rabbit that made the wrong move at the last millisecond. We got to the Rapid City airport in plenty of time for John to catch his flight. Mine left a few hours later.

When I boarded my plane, about noon, we sat at the gate for a while before they announced that 12 of us, along with most of our luggage, would have to get off the plane because the temperature outside (106 degrees) was too hot to take off with the full load. Amid a lot of confusion, I was one of the 12 who got off. The confusion got worse because Delta (the airline I was using) had only a single employee on duty at the airport and this guy had only a month's experience. He got most of our luggage off, except for three women's bags and one guy's set of golf clubs. He seemed to be learning on the job how to book alternate flights for each of us and to get us vouchers for meals, hotel, transportation, and the $400 coupon we were promised for agreeing to get off the plane.

We ended up spending the entire day at the airport getting these things done. I was one of the more fortunate among the 12 because I am retired and had no commitments that I had to meet. People who had to get to jobs were a lot more anxious. One family of four, who were part of our group, was traveling with a tiny kitten which helped relax and entertain some of us during the day. The young girl who owned the kitten said her name was "Lucky". I convinced her to at least give her the middle name of "Jinx". The temperature outside got up to 109 before the end of the day. It was a long day. I finally got on the shuttle to the hotel in Rapid City at about 7:30 PM.

I thought I might meet up with some of the 12 in the restaurant at the hotel, but I didn't see any of them. Instead, I was invited to join a very pleasant woman, Bernita Joyce, PhD, CPA, at her table. She is president of her company and is active in the affairs of Indians, particularly in South Dakota. We had a thoroughly delightful conversation during dinner. I got up to my room at 10:30.

7/8/07 (Sunday) I got up at 4:30 in time to catch the shuttle back to the airport. Except for extra long security lines, a long route to Seattle via Minneapolis, and a six-hour layover in Minneapolis, the flight home was uneventful. I was very tired and happy to finally be back home. All in all, the trip was a delightful adventure.

---
Page 5 of 5. Go to page 1 2 3 4 5 prev
---
©2007 Paul R. Martin, All rights reserved.