Hettinger, ND Centennial, 2007

Hettinger, ND Centennial . . . . . . . . . . . . . . . . . . . . . . . . . . . . . . . . . . . . . . . . . .Page 2 of 5. Go to page 1 2 3 4 5 next prev

by Paul Martin

7/3/07 We slept in until about 8:00. John made the coffee only to discover that the coffee maker was broken and it spilled coffee all over the counter. We had another excellent conversation over breakfast about Physics, Math, Philosophy, etc., that went on until after 3:00 PM.

We walked downtown and then over to our old house. We looked over the garage that Dad and I had built. The yard hadn't changed all that much. It was a nostalgic visit. We stopped in at the quilt shop and then we walked around the lake. We walked over the Thomas Melby Memorial Bridge and got pictures of it.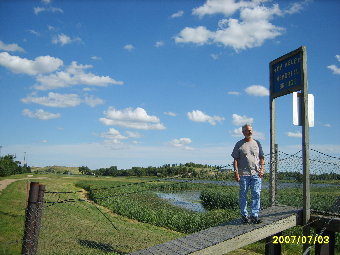 . . .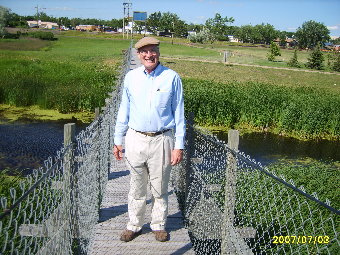 The lake was beautiful. All the grass was green and seemed to be freshly mowed and manicured.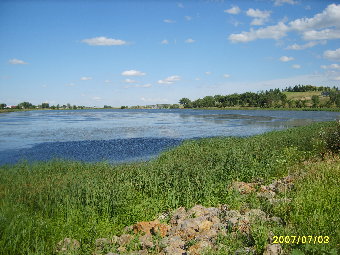 . . .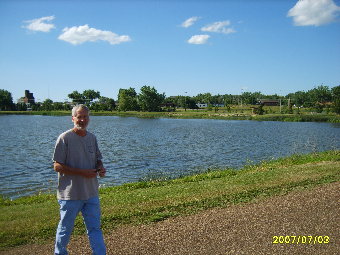 I took some videos of a couple of birds trying to capture their songs, but there was too much wind noise. One of them is a nice shot of John and a beautiful panorama of the lake. You can see it here.

When we got around the east end of the lake, we continued on to Gayle and Lynn's. They were parked up near the cemetery. We called and got directions and we got invited to a big Howe family reunion and barbeque picnic. Gayle's daughter Devonna and John Murrin were also there. Debbie Bourne, another of Gayle's daughters, was there but her husband Gordon was not because he had a toothache. I took pictures of most of the people there. Here is Samantha in the foreground with Betty Howe, June Howe and Hillary in the background.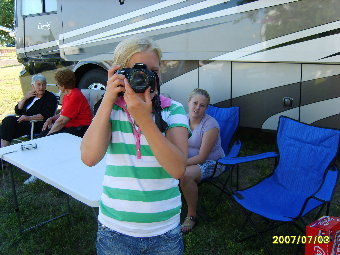 . . .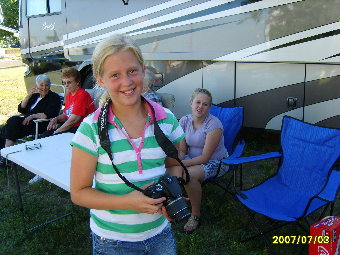 Here's John, Betty, and June.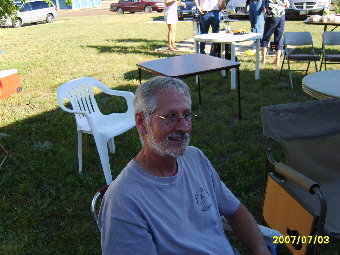 . . .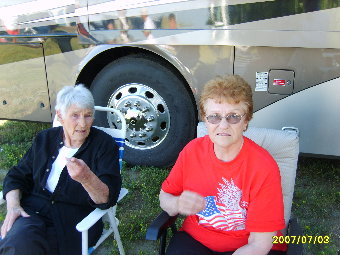 Here's Don Howe, Hillary (yawning), Rox and Jeff Howe (Dorwin's kids).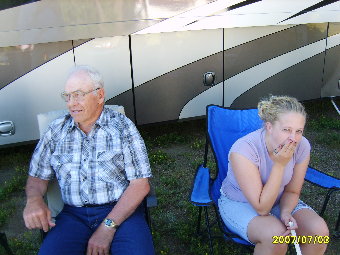 . . .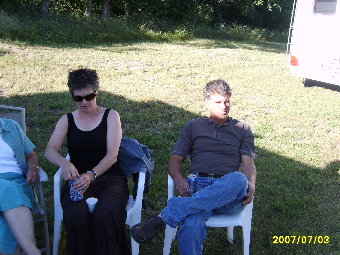 Here's Dorwin (pointing), Isabel, Rox, Maxine (Howe) Smevaag and John Smevaag. Maxine and John live in Marysville WA and I had a nice conversation with them about that beautiful country up there.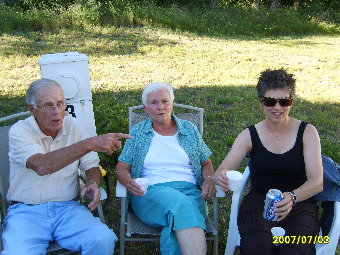 . . .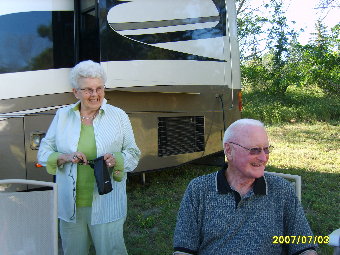 And here's John (barely), Devonna, Debbie, Hillary, Barb , and Gayle.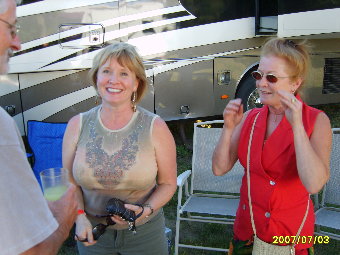 . . .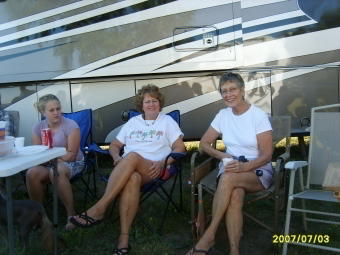 I even got a couple of pictures with me in them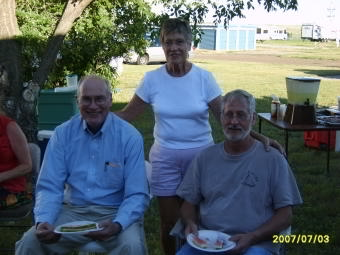 . . .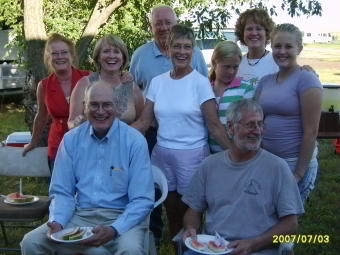 Samantha was going to perform a dance at a talent show on Saturday but John and I would be gone by then. She agreed to do the dance for us on a concrete slab. I got video pictures of her dancing. You can see them here and another one here.

After we got back to our lodge, John and I talked until the wee hours again, only this time we drank a bottle of wine and some scotch so we got pretty tipsy.

---
Page 2 of 5. Go to page 1 2 3 4 5 next prev
---
©2007 Paul R. Martin, All rights reserved.