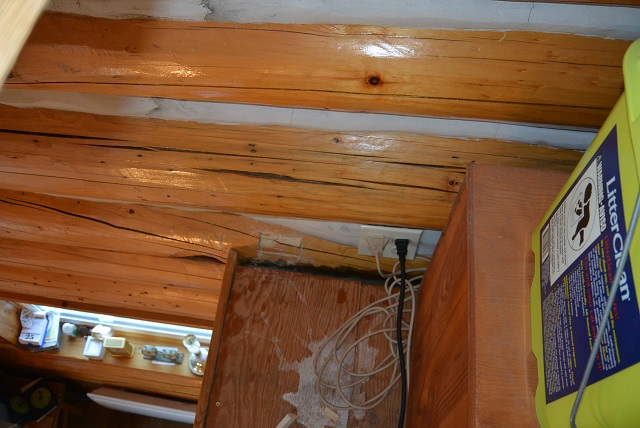 4/3/19 This picture is hard to understand without an explanation. What you see in the center-bottom, with the white paint splotch, is the loft subfloor. The loft edge is on the left with the dining room window ledge and heater visible down below. The loft subfloor meets the Grid A log wall in the center of the picture. To install the railing along the edge of the loft, I need to place a 2x4 on the subfloor a couple inches in from the edge. The 2x4 will meet, and actually penetrate, the log wall in order to make a secure joint. To the left of the electrical outlet, you can see the recess I have begun chiseling in the log to receive the 2x4. With one badly executed blow of the hammer, the chisel flipped out of my hand, did a flip in the air, and then fell neatly down into that crack between the log wall and the subfloor. The crack is black in the picture because the log wasn't scraped and varnished there because it will be out of sight when the floor is finished. Anyway, the chisel fell down between the log wall and a joist and landed on the dining room ceiling drywall eight inches below. The crack is way too small to get your hand in, and you can't see into the crack even with a mirror and a flashlight. There seemed to be no way to get that chisel out. I told Ellen when she called that night that I would probably have to buy a new chisel.
---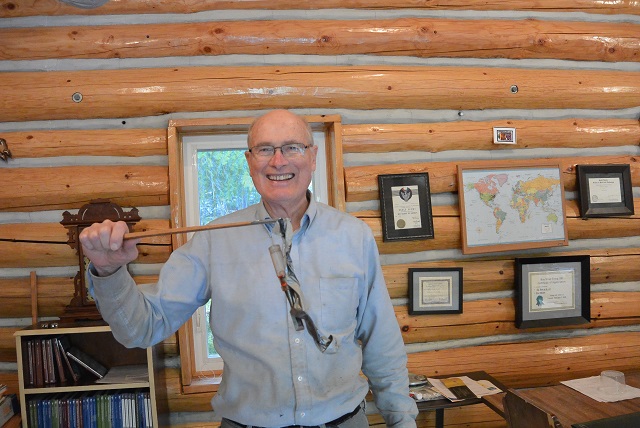 4/4/19 The next morning, I decided to try fishing for the chisel. I made a short fishing pole, which you see me holding. The fishing line is a length of duct tape fastened to the end of the pole. I worked the duct tape down into the crack and started twisting and moving the pole around. Pretty soon, I could hear the sounds of a chisel being dragged across drywall. I ever so gingerly and gently pulled the duct tape up, making sure I didn't dislodge the chisel, and after a while, I was successful in pulling the chisel up and out. I was excited and happy about my success as you can see in the picture.
---
©2023 Paul R. Martin, All rights reserved.